CMM-K22F-OEM Board with Arduino and Grove Connectors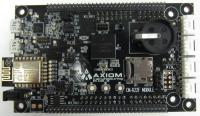 SKU: CMM-K22F-OEM
The CMM-K22F-OEM is an industrial rated module featuring the MK22FN1M0VMD microcontroller. This small form factor (2.36" / 60mm x 3.94" / 100mm) board is ideal for low cost evaluation, development, and industrial OEM embedded application where higher signal counts and features are suitable.
Quickly build your prototype without soldering by adding standard Grove Modules for sound, display, input, communications, etc. using the supplied on-board grove connectors. Even more hardware modules can be added quickly using the fully compatible Arduino Shield connector on the back of the board.
Target Applications:
Industrial control • Industrial networking • HVAC systems/applications
Human-machine interface (HMI) • High-end lighting control • Health care devices
Fire and alarm systems/applications • Security panels • Internet Control Device (IOT)
Features:
MK22FN1M0 ARM Cortex-M4 MCU,144BGA Package
32 bit w/ DSP Instruction support
3 Internal clocks, 120Mhz operation
1M Byte Program Flash
128K Byte SRAM
WiFi Enabled Optional
USB 2.0 OTG Port
External Flex Bus
6x UARTs, 3x SPI, 2x I2C Serial Ports
SDHC bus
I2S Bus
All GPIO with Interrupt Inputs
4x PIT timers
3x Flex Timers w/ PWM, Motor control
2 x 16bit ADCs, 4x differential channels
2 x 12bit ADCs multiple channels
2 x 12bit DAC outputs
5V tolerant I/O
Other Board Features:
uSDcard connector, up to 32G byte memory
USB OTG connector, host or endpoint modes
2x User Push Switches
2x User LED indicators
8MHz Primary and 32Khz RTC External Oscillators
SDA Development Interface w/ USB COM Port (UART0)
MCU I/O Ports, 2 x 64 pins, 2mm stack with all I/O **
Arduino / Freescale Shield I/O connectors (Bottom)
Grove I2C (2), AN, and I/O connectors.
JTAG / SWD Port, mini -10 connection
+5V to 28V input power supplies w/ indicator
RTC Battery support, CR1632 battery
Freescale SDK / MQX RTOS Board Support Packages
Cables and Wall-Plug power optional
** = pins not populated by default, build option
Specifications:
Power Input: 1.3mm DC plug, Term Block, Stack, +4.75V to +28VDC.
Board Size: 2.36W x 3.94L x 0.6 H Inches, .1" Mounting holes 2.0 x 3.75".
Including FREE Compiler/Debugger/IDE and many example applications!
Support Files:

CMM-K22F-OEM - Datasheet
Support Files:

CMM-K22F-OEM - Schematic
Weight: 2 lb
Dimensions: 4 in × 2.4 in × 1 in