CMLU-12C32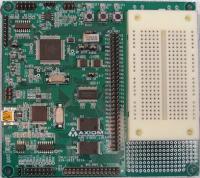 SKU: CMLU-12C32
This board replaces the CML-12C32.
The CMLU-12C32 development board provides a stable development platform for the Freescale MC9S12C23 MCU. This development board will accommodate any MC9S12C family of MCUs in the 80-LQFP package. The CMLU-12C32 also provides a versatile platform for use in educational programs.
The embedded OSBDM allows easy application development and debug and also allows users to easily power the development board from a laptop or PC. The CMLU-12C32 also ships with the Freescale Serial Monitor loaded to provide an enhanced out of the box experience.
The CMLU-12C32 comes equipped with a solderless breadboard to allow users to rapidly build circuits for testing. This platform also applies locations to allow users to install parts in SOIC or SOT-23 packages. Locations for an external power supply input allows users to easily embed this platform into custom designs.
The Feature List below details the shipping version features available. Contact Axiom Manufacturing for further details on other custom configurations.
FEATURES
MC9S12C32 MCU, 80 QFP

32K byte Flash
2K bytes SRAM
60 I/ lines
8-channel, 10-bit A/D port
10 Key wake-up inputs
6 PWM channels
CAN 2.0 Module

Integrated OSBDM for easy debugging
32K x 16 external SRAM
16 MHz crystal oscillator
8 MHz bus operatin default with Monitor
24K MHz optinal bus operatin with MCU PLL
RS-232 Serial Port w/ DB9 Connector
LCD interface port with optinal backlight connection
Keypad interface port
MCU_PRT and BUS_PRT header sockets provide access to MCU signals
3 Push Button Switches: RESET, 2 user defined
5 LED Indicators: TPWR, STATUS, 2 user defined
Autostart jumper
Optinal MODE jumper (not installed, enabled with cut-trace)
Configuration Jumpers to setup board operatin
Connectors
60-pin MCU_PORT Socket Header
28-pin BUS_PORT Socket Header
10- pin header w/ ribbon cable DB9 RS-232 connectr
Mini-B USB connectr supprting Integrated OSBDM
6- pin DEBUG BDM Connector
3-pin CAN_PRT Connector
8-pin Keypad Connector
14-pin LCD Connector w/ option to power backlight
Solderless Breadbard Area, 3.5" x 1.75"
Included USB Cable
Optinal external power input circuitry (not populated)
Weight: 3 lb
Dimensions: 7 in × 10 in × 3.5 in